weBoost Drive X Cell Phone Signal Booster
weBoost Drive X Cell Phone Signal Booster
Affordable connectivity to go
The weBoost Drive X Cell Phone Signal Booster is our standard multi-user in-vehicle cell signal booster. It's designed to provide enhanced coverage; reaching cell towers up to 33% farther than the weBoost Drive Sleek.
Installed in minutes without tools, Drive X stops dropped calls while also improving voice quality, data speeds, and streaming capability.
Drive X works on all US carrier networks and is compatible with all phones and cellular devices as it simultaneously supports multiple users.
5G Compatible - weBoost is committed to the 5G movement, ensuring all our products work with 5G and support the latest in 5G technology.









 Reaches far away cell towers
 | 



 Good booster for remote areas



 Boosts multiple users/devices
 | 



 Ideal for passenger cars/SUVs



 Magnetic antenna for quick placement | 



 Reaches cell towers up to 33% farther than the Drive Sleek 



 Tool-free installation takes just minutes
 | 



 Best value for multi-user vehicle booster
In the Box



475021Drive X Booster |  



3011264" Mini Magnet-Mount Antenna | 



314401Slim Low-Profile Antenna | 



859913Power Supply
SPECS
> 
Download Spec Sheet
> 
Download Install Guide



Frequency
Band 12/17 700 MHz
 Band 13 700 MHz
 Band 5 850 MHz
 Band 4 1700/2100 MHz
 Band 2 1900 MHz | 



Max Gain
50 dB | 



Power
6V / 2.5A



Connectors
SMA Female | 



Dimensions
6.25 x 4.5 x 1 in. | 



Weight
.77 lbs.
How it Works
1


Outside antenna pulls in cell signal from the closest tower. | 2


Booster amplifies the signal received by the outside antenna. | 3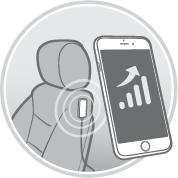 Inside antenna distributes this new signal throughout vehicle.. 
Will this work for me?
A booster doesn't create cell signal. It picks up the outside cell signal (no matter how weak) and amplifies it inside your home for better talk, text, and data. 
The effectiveness of any booster depends on the strength of the outside cell signal. With this in mind, see how much Destination RV can improve your indoor cell signal coverage when the RV is parked.
If the distance to the cell tower is:Your boosted cell signal will provide:Short | → | Better Talk/Text/Data
Medium | → | Good Talk/Text/Data
Long | → | Some Talk/Text/Data
Out of Range | → | None
BEFORE USE, you MUST REGISTER THIS DEVICE with your wireless provider and have your provider's consent. Most wireless providers consent to the use of signal boosters. Some providers may not consent to the use of this device on their network. If you are unsure, contact your provider. You MUST operate this device with approved antennas and cables as specified by the manufacturer. Antennas MUST be installed at least 20 cm (8 inches) from any person. You MUST cease operating this device immediately if requested by the FCC or a licensed wireless service provider.

WARNING. E911 location information may not be provided or may be inaccurate for calls served by using this device. Please note, the four largest carriers, namely, AT&T, T-Mobile, Verizon and Sprint, and more than 90 regional carriers have given a blanket consent to all boosters meeting the new certification standards.